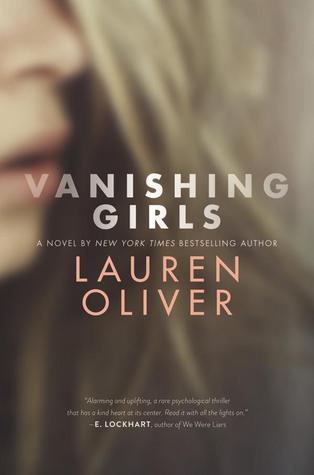 Series: N/A
Genres: YA Contemporary Mystery
Book Length: 368 pages
Publication Date: March 10, 2015
Publisher: HarperCollins
Source: Edelweiss
Goodreads
Dara and Nick used to be inseparable, but that was before the accident that left Dara's beautiful face scarred and the two sisters totally estranged. When Dara vanishes on her birthday, Nick thinks Dara is just playing around. But another girl, nine-year-old Madeline Snow, has vanished, too, and Nick becomes increasingly convinced that the two disappearances are linked. Now Nick has to find her sister, before it's too late.





In this edgy and compelling novel, Lauren Oliver creates a world of intrigue, loss, and suspicion as two sisters search to find themselves, and each other.



Review
I am a huge fan of Lauren Oliver, so when I got approved for this book on Edelweiss I was obviously ecstatic! Honestly, I was a little disappointed by this book, but it somewhat still met my expectations.
I've been reading a lot of mystery novels lately, and not a single one of them had an actually good mystery aspect to it, so I went into this book with no expectations for the mystery. This was honestly a pretty good decision from my part because I didn't really find the mystery portion of this book very entertaining. The mystery doesn't really come up very often throughout the story, except for around the ending, but I felt the whole concept of
"What exactly happened in the accident??"
very mysterious, and it kind of made up for the lack of an actual mystery.
The novel is from the perspective of Nick and Dara, two sisters who have recently been in a traumatic accident. I found it so heart-breaking about how they viewed themselves and how they kept on comparing themselves to the other sister! I don't have a sister (though I really wish I did), so I don't know how a relationship between two sisters should be like, but I feel like sisters should be like best friends, or at least close friends, that can share secrets and trust each other. I'm pretty sure that there aren't really a lot of relationships that are like that, so I think their relationship was really realistic. I hated how the rift between them kept on growing and growing throughout the whole book, but I guess it was inevitable because of the things they went through.
I really liked the feeling I got while reading this book! Like it felt like the book that this whole creepy aura coming from it. I felt like that there was going o be something bad happening at the ending, like some big plot twist, but I didn't exactly predict what was going to happen.
There was a bit of a love triangle thing going on between Nick, Dara, and Parker, and honestly, I didn't really care much for Parker, the love triangle, or the romance. He was alright. The love triangle was alright. The romance was alright.
But I didn't care about them.
I didn't care who ended up with who. I didn't ship anyone with someone else.
Honestly, those things weren't even on my mind while reading the book.
The ending was extremely confusing for me. I was completely understanding what was going on, and then the plot twist strikes and then I'm all:
"Wait. What? What? WHAT JUST HAPPEN?!"
I finished the entire book totally confused, so then I had to go back and read the part that confused me, and frankly, I'm still confused about what happened, and I could go back and read it again, but I doubt it would help me. And I'm just too lazy to do that XD
Overall, the book was alright, but it wasn't really for me, but I would recommend it to people who enjoy books with complex relationships.