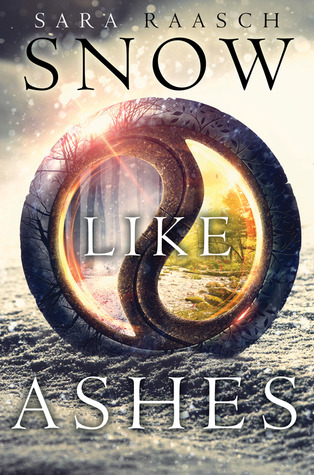 Series: Snow Like Ashes #1
Genres: YA Fantasy Romance
Book Length: 416 pages
Publication Date: October 14, 2014
Publisher: Balzer + Brayer
Source:
BNA Review Exchange Program
Goodreads
Sixteen years ago the Kingdom of Winter was conquered and its citizens enslaved, leaving them without magic or a monarch. Now, the Winterians' only hope for freedom is the eight survivors who managed to escape, and who have been waiting for the opportunity to steal back Winter's magic and rebuild the kingdom ever since.





Orphaned as an infant during Winter's defeat, Meira has lived her whole life as a refugee, raised by the Winterians' general, Sir. Training to be a warrior—and desperately in love with her best friend, and future king, Mather — she would do anything to help her kingdom rise to power again.





So when scouts discover the location of the ancient locket that can restore Winter's magic, Meira decides to go after it herself. Finally, she's scaling towers, fighting enemy soldiers, and serving her kingdom just as she's always dreamed she would. But the mission doesn't go as planned, and Meira soon finds herself thrust into a world of evil magic and dangerous politics – and ultimately comes to realize that her destiny is not, never has been, her own.



Review
This book was awesome. It had everything that I could hope for a high fantasy novel to have. EVERYTHING. I'm so freaking in love with this book!!! I've been wanting to read this book for such a long time, and now I've finally read it thanks to Helena. Thanks so much for the copy of this book! <33 p="">
Let me just start off with the cover. Does anyone else see how amazing this cover is?! COVER LOVE. The way all the colors go together and just everything about it is just so beautiful!
I normally don't read that many fantasy books, but I'm quickly realizing that it's an amazing genre and that there are a lot of books from the genre that I really enjoy. To list some really quickly, I would say: Throne of Glass, The Mortal Instruments series, and Grave Mercy. And now I have to add Snow Like Ashes to that list. I was just mind-blown when I read this book! It was utterly phenomenal. It had everything that I want there to be in a fantasy novel.
The main character, Meira, was a fierce heroine and I really liked her. She was really stubborn, independent, and determined. She did what she wanted and was definitely a kick-ass heroine. I really liked how much her character developed throughout the novel and how she discovered so many things about herself and about her world.
I really liked Meira, but my favorite character would without a doubt be Theron! He was just so AMAZING and sweet and he's a prince. Basically perfect. Whenever there was a scene with Theron in it, my inner fangirl started screaming in happiness. I'm in love with him. The only problem I had was that I wanted there to be more of Theron in the book.
There is a love triangle in this book. So of course there is another guy. Mathers. I liked Mathers and all, but honestly, when you compare Mathers to Theron, Theron is the obvious winner to me. The thing I liked about both love interests is that they were both kind, sweet, and fair. They are both likable and awesome, so Meira's going to have a hard decision in the near future...But she should pick Theron. Or Mathers. Hehehe...then I can keep Theron for myself...
The world building for this novel was fantastic. The world was very complex and there was a lot of information that needed to be absorbed, but it never felt like an info-dump. Sara Raasch did a fabulous job giving the reader a few details at a time, so it didn't seem like an information overload. At first, I was a little confused about the Seasons, the Rhythms and everything else that needed to be remembered, but as the story progressed, I was a little surprised to see myself stop struggling to comprehend what was happening and just naturally absorb the details easily. The setting was just amazing! It was descriptive written, but not overly so.
One of the only things that disappointed me about this book was that I predicted the plot twist a long time before it was revealed, so I didn't really get to enjoy it. There were a lot of hints throughout the story, and I can see how someone may not predict it, but to me, it was really noticeable. Nevertheless, I really enjoyed this book!
Snow Like Ashes was a fantastic debut with phenomenal world-building and I'm super excited for the next book.
33>