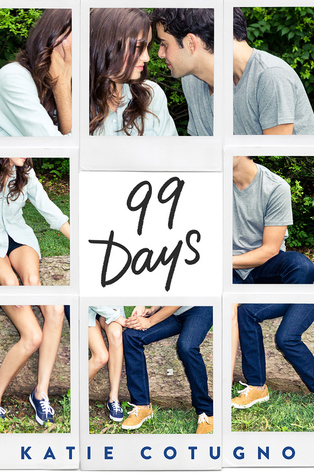 Series: N/A
Genres: YA Contemporary Romance
Book Length: 384 pages
Publication Date: April 21, 2015
Publisher: Balzer + Bray
Source: Edelweiss
Goodreads
Day 1: Julia Donnelly eggs my house my first night back in Star Lake, and that's how I know everyone still remembers everything—how I destroyed my relationship with Patrick the night everything happened with his brother, Gabe. How I wrecked their whole family. Now

I'm

serving out my summer like a jail sentence: Just ninety-nine days till I can leave for college, and be done.





Day 4: A nasty note on my windshield makes it clear Julia

isn't

finished. I'm expecting a fight when someone taps me on the shoulder, but it's just Gabe, home from college and actually happy to see me. "For what it's worth, Molly Barlow," he says, "I'm really glad you're back."





Day 12: Gabe got me to come to this party, and I'm actually having fun. I think he's about to kiss me—and that's when I see Patrick. My Patrick, who's supposed to be clear across the country. My Patrick, who's never going to forgive me.



Review
This book was one of those books that you enjoy, but you don't really know if you
should've
enjoyed it. The book itself was pretty entertaining, but I didn't really like certain parts of it. There is cheating involved, and from my previous experiences with books involving cheating, I am definitely not a fan of them. Even though there was cheating involved in this book, there were many other aspects of it that I think are incredibly realistic.
There was the slut-shaming. It infuriated me, but I loved how the author handled it. All the people in Molly's town were all sending her dirty notes saying things like "dirty slut", giving her dirty looks, tripping her, and basically everything that teenage girls involved in drama do to each other. The main person behind all of this is Julia. Gabe and Patrick's sister. She is basically blaming Molly for everything that happened with her and Gabe and Patrick and basically ruining their family. But the thing that annoyed me about this was that Julia's brother, Gabe, was the one who had sex with Molly, so why isn't he being called bad things and treated how Molly is being treated, when he betrayed his brother? The whole idea of girls being shamed, while guys aren't is extremely realistic.
There is a love triangle in this book between Patrick, Gabe, and Molly. Honestly, I
hated
Patrick throughout the entire book. And as the book progressed, my hatred for him increased. He just seemed so selfish and uncaring! Gabe was SO much better for Molly, in my opinion. He was so sweet, kind,
and he treated her right.
I loved the messed up relationships between all the characters! Almost every single character in this book had a different problem and history with each other, like Molly and Imogen's friendship and Patrick and Gabe's relationship.
I loved the character growth that Molly went through, and how she realized that everything that happened to her wasn't just the result of things that she did. It was a consequence for things that everyone else in her life did too. But I admit, there were a lot of moments around the middle of the book where I was getting extremely frustrated with Molly. She kept going back and forth between Gabe and Patrick, and that pissed me off! But I actually understood all the emotions she was going through and I understood why she did what she did, even though I didn't agree with most of the decisions she was making.