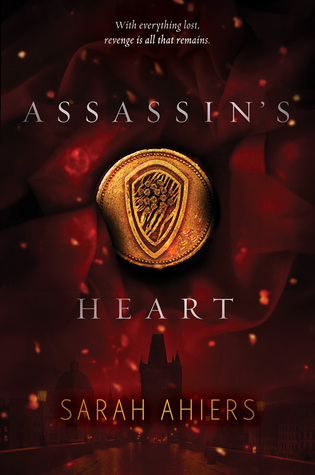 Series: Assassin's Heart #1
Genre: YA Fantasy Romance
Book Length: 400 pages
Publication Date: February 2, 2016
Publisher: HarperTeen
Source: Edelweiss
Goodreads
In the kingdom of Lovero, nine rival Families of assassins lawfully kill people for a price. As a highly skilled member of one of these powerful clans, seventeen-year-old Lea Saldana has always trusted in the strength of her Family. Until she awakens to find them murdered and her home in flames. The Da Vias, the Saldanas' biggest enemy, must be responsible—and Lea should have seen it coming. But her secret relationship with the Da Vias' son, Val, has clouded her otherwise killer instinct—and given the Da Vias more reason than ever to take her Family down.

Racked with guilt and shattered over Val's probable betrayal, Lea sets out to even the score, with her heart set on retaliation and only one thought clear in her mind: make the Da Vias pay.

With shades of The Godfather and Romeo and Juliet, this richly imagined fantasy from debut author Sarah Ahiers is a story of love, lies, and the ultimate vengeance.
Review
When I first saw this book on Edelweiss, I was so excited for this book. Look at the cover. Read the blurb. Doesn't it sound fantastic?
I mean, it's about assassins.
OF COURSE I WAS GOING TO BE EXCITED! And honestly, this book was such a letdown. I couldn't even finish it and I DNFed it at 63%. And I don't DNF books often. This is the 6th book I've ever DNFed....
If I tried hard enough, I probably could've finished it, but it just kept on draggingggg and I kept on checking how much of the book I still had left to read. I was completely bored out of my mind and I couldn't wait to be over with it. The beginning of the book was pretty exciting and I somewhat enjoyed it. But the middle? NOPE.
The pacing towards the middle was so slow and I felt like tearing my hair out in frustration and annoyance.
I was like "SAVE ME FROM THIS BOREDOM" for the majority of the book.
The whole premise of the book was amazing. The nine Families are allowed to lawfully kill people. That's really different from how most books are, so I was really excited about that. But after reading it, it started feeling more and more like an excuse for what Lea was doing. She didn't even realize what she was doing was wrong. I just couldn't like her. I really hope her character developed throughout the rest of the story. I actually don't know if she did get better since I didn't get far enough into the book, so oops? And I just couldn't like her.
My opinion of the romance was pretty much the same as the rest of the book. There were a lot of people that liked Les, and he was nice and all, but ehhhhhh... :/ I didn't ship Les and Lea. I mean, I wasn't really feeling the connection between the two of them. While I did like Les alone, I didn't like them together. And their names were way too similar, in my opinion. Half the time I wasn't reading carefully and I would read Les instead of Lea or vice verse and I'd end up totally confused.

This book had a lot of potential and a great premise, but poor execution and pacing.